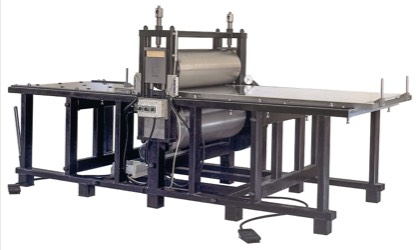 Plate Printing/High Pressure Press
The support is manufactured of 50 x 100 mm profile sections. Upper roller diameter 290 mm; material thickness 36 mm. Pillow blocks are manufactured of solid iron with spherical roller
baerings. The printing beds are of 20-35 mm thick iron, depending on size. with 1650 quality. The cover plate is of duraluminium or stainless plating. The beds run on capsuled ball bearings, acted on by lateral ball bearings for accurate running. Trapezoid threaded tension screws and cardboard springing. Driven by a braked, 0.75 kW, 3-phase motor, with power transmission chain-driven from the lower roller. A shield is mounted on the support, beneath the beds. Controls consist of a spring-loaded rocker switch, two limiting switches, two photo cells, two emergency stop foot pedals, a motor guard and a limiting switch on ihe chain guard. CE marked.
Size example: bed measurement 1500 x 3000 mm
By the addition of springs, the upper roller converts for height adjustment (to high pressure). In this case the support must be lengthened so that the beds can rest on both sides. Two additional photo cells are also required.
We also act as middle-man for second-hand (Begagnat) printing presses and graphical materials. We only manufacture to order.