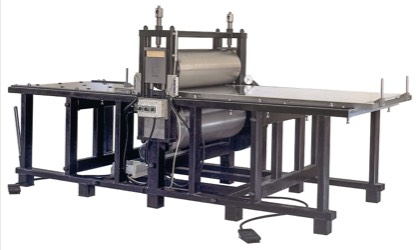 Plate Printing/High Pressure Press
The support is manufactured of 50 x 100 mm profile sections. Upper roller diameter 290 mm; material thickness 36 mm. Pillow blocks are manufactured of solid iron with spherical roller
baerings. The printing beds are of 20-35 mm thick iron, depending on size. with 1650 quality. The cover plate is of duraluminium or stainless plating. The beds run on capsuled ball bearings, acted on by lateral ball bearings for accurate running. Trapezoid threaded tension screws and cardboard springing. Driven by a braked, 0.75 kW, 3-phase motor, with power transmission chain-driven from the lower roller. A shield is mounted on the support, beneath the beds. Controls consist of a spring-loaded rocker switch, two limiting switches, two photo cells, two emergency stop foot pedals, a motor guard and a limiting switch on ihe chain guard. CE marked.
Size example: bed measurement 1500 x 3000 mm
By the addition of springs, the upper roller converts for height adjustment (to high pressure). In this case the support must be lengthened so that the beds can rest on both sides. Two additional photo cells are also required.
We also act as middle-man for second-hand (Begagnat) printing presses and graphical materials. We only manufacture to order.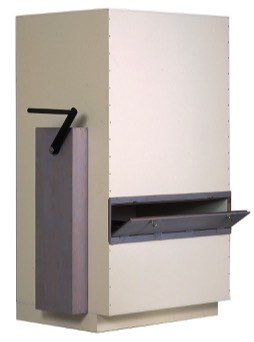 Aquatint Box
We build to your specifications
MDF-manufactured box, finished in anti-static painit with pinewoad details.
Manual or motor-driven. Motor-driven option CE-approved.
Information
The powder, acted on by brushes, eddies up from the curved bottom of the box.
Brushes are carried on an axie, mounted in ball bearings outside the box.
The plate grill is accessed through a hatch.

Heating Plates, 30° - 110°C
Both casing and heating plate are stainless. For added stability, a 5mm thick aluminium plate is bolted in place beneath the heating plate. The aluminium acts as a heat storage medium for even distribution to the heating plate. A plate holder keeps the heating elements pressed tight against the aluminium plate. Heat is thermostat-controlled, correct temperature being indicated by a control lamp. As an additional safety measure, the heating plate is protected against overheating by a breaker which activates at 132°C. Plates are CE-approved.